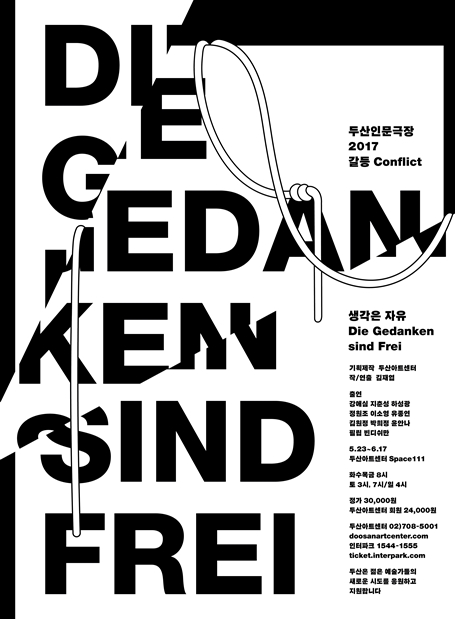 Play
Die Gedanken sind Frei
Doosan Humanities Theater Series 2017
May.23.2017 ~ Jun.17.2017Space111
Tue~Fri 8pm
Sat 3pm 7pm
Sun Holiday 4pm

30,000won

Over the age of 14

130min
‹Thoughts are Free›, the last work of 'Doosan Humanities Theater 2017:Conflict' is the latest work by Kim, Jae Yeop,
the recipient of 'Best Work' and 'Best Play' at the 2013 Dong A Play Awards.
Inspired by the German folk song 'Die Gedanken sind Frei', the play presents events which the playwright and director Kim experienced during his 1-year sojourn in Berlin, Germany.
His diaries, statements and interviews throw questions on the art and society of Korea and Berlin as seen through the perspective of world citizens, immigrants and refugees.