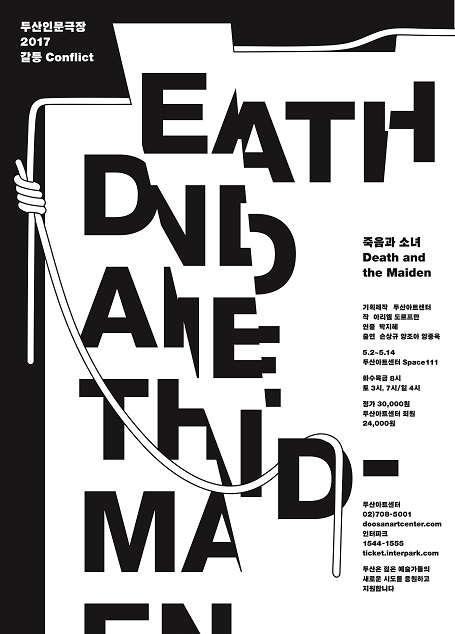 Play
Death and the Maiden
May.02.2017 ~ May.14.2017Space111
Tue~Fri 8pm
Sat 3pm 7pmSun Holiday 4pm
* 5.5(Fri) 4pm
* 5.10(Wed) 4pm, 8pm

30,000won

Over the age of 14

70min
‹Death and the Maiden› was presented in the DOOSAN Art LAB workshop, then performed in November of the same year as well as in 2014.
A representative work by Ariel Dorfman, ‹Death and the Maiden› is a play based on the motif of Chilean dictator government.
Paulina, tortured and raped during the period of the military dictatorship, is revived of her memories of the past when a man enters her life.
Yangson Project, an artist group of the Doosan Art Center Creative Incubating Program, is a theater group
including the actors Son, Sang Kyu, Yang, Jo A, and Yang, Jong Ook, and director Park, Ji Hye.
Yangson Project selected three scenes out of the eight in the original script and explored them in depth.