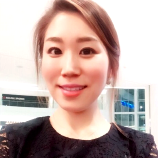 Minjung Kim글보기 버튼
Kim received her B.A. in English Literature and M.A. in Art History with thesis 『A Study of the Aesthetics of Idealism in the Panza Collection』. After graduating, Kim contributed her study of the exhibition and circulation process of the Panza Collection, which she researched in her thesis, in 「Association of Art History, Culture & Critique」. Kim also worked as the exhibition coordinator for the exhibition MMCA HYUNDAI MOTOR SERIES 2016: KIMSOOJA at the National Museum of Modern and Contemporary Art, Korea. Kim firmly believes that art ultimately originates from the human life. Kim's vision as a curator lies on creating exhibitions which question the roles art in the human collective and society today, and exhibitions that remind us of the value of human existence as thinking beings.
Goeun Song글보기 버튼
Song studied Painting at Sejong University in Korea, and received Kingston University London's Art and Space M.A. degree. Since 2014 until present, Song has been working as the curator at SPACE O'NEWWALL, Korea. Recently, Song has contributed in organizing and writing in exhibitions Im Youngzoo Solo Exhibition: THEWESTERLIESWINDCOMESANDGOES (2016), Jaewook Lee Solo Exhibition: Treatise on Rhythm, Color and Birdsong (2016), Hesitation Form: Gone with the Beginning (2015), and The Smell of the Moon: Swiss New Media Art (2015), etc. Song's interest in the various knowledge production methodologies in art has led to other projects and workshops including Sensible Residence (2016), and Right Then, Wrong Now: Curators' Conversation (2015), etc.
Jihyun Shin글보기 버튼
Jihyun Shin studied both her B.A. and M.A. in Art Theory. She is interested in the works of contemporary artists and the ways to unravel them into an exhibition. Shin has gained pivotal curatorial experiences from workplaces such as an artist studio, a research institution and a cultural foundation. She is currently working as an exhibition coordinator at Arko Art Center (Arts Council Korea). Shin is looking for ways to maintain her 'enjoyment' about the current state of the art industry, where there is constant influx of new medium, methodologies and discourses. She is currently preparing her master's thesis on Korean Art of the 1990s. Apart from the thesis, her special interest is in the sustainability of traditional medium, especially painting and sculpture, amidst today's prevalence of new media. Her long term goal is to realize her interests through exhibition making and as a foundational beginning to such goal, Shin curated an exhibition called Post-Pictures in 2015.