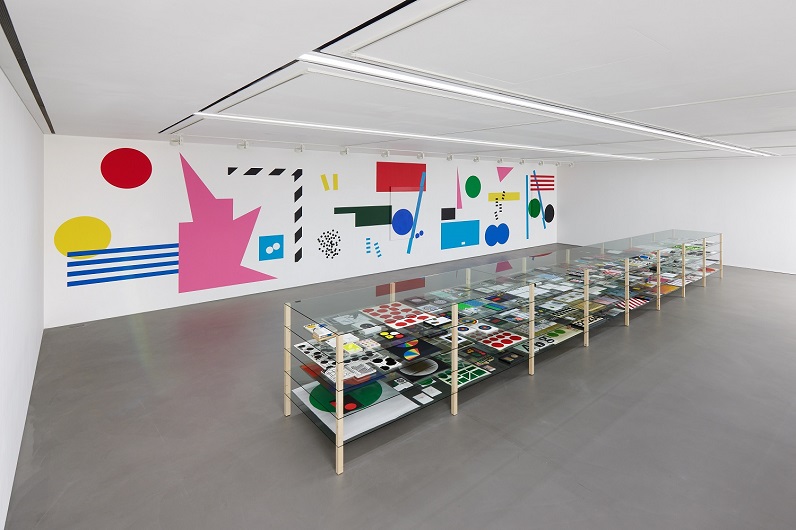 Na Kim
Installation view
Tuesday-Saturday 11:00~19:00 / Closed on Sunday and Monday
DOOSAN Gallery: 15, Jongno 33-gil, Jongno-gu, Seoul, Korea
Tel. 02-708-5050
DOOSAN Gallery presents TESTER, a solo exhibition of Na Kim, from June 7th (Wed.) to July 8th (Sat.), 2023. Na Kim, an artist and creator whose work revolves around graphic design, was the winner of the 4th DOOSAN Artist Award in 2013. Subsequently, she presented her solo exhibition Choice Specimen at DOOSAN Gallery Seoul in 2014, followed by her participation in DOOSAN Residency New York in the latter half of 2015, which culminated in her New York debut with SET the same year. This current exhibition was devised to shed renewed light on and provide continued support for the artists who have shown with DOOSAN Gallery during its first years of an enduring commitment to foster young creatives.

What is the necessary process involved in using "graphic design"—a discipline characterized by its unique and intricate demands and roles—as a language of expression? In this exhibition, Na Kim presents new work along with 193 archival pieces accumulated through her roles as a creator of graphic images and as a collaborator in various exhibitions, events, and publication design. The substantial archive includes selected posters, exhibition identities, catalogs, and other materials centering around her exhibition SET (2015). Instead of a linear, chronological display, Na Kim opts for an arrangement that helps viewers recognize how the use of form, color, and meaning in SET repeat, intertwine, transform, and expand. The abundance of documentation, layers of which are visible from various angles through the transparent shelf display, not only represents Na Kim's personal records but also symbolizes mutually enriching interactions among different genres of visual art. Meanwhile, SET v.24 (2023), a mural spanning over 16 meters of wall space, presents one of the many manifestations of images from SET, which, originating from a printed publication, continue to reconstruct as they adjust to different types of support. This new mural reinterprets SET in a powerful and minimalistic design pattern and a painterly approach comprising vibrant and lively colors.

While the archive largely represents the past, the installation in the window gallery, Fifty Four Blocks II (2023), as well as the pieces displayed across from the mural, offer a glimpse into Na Kim's future endeavors. The window gallery installation is a reinterpretation of Owen Jones' Grammar of Ornament (1865), which contemplates design as a part of art, embodies the dynamic and ever-changing nature of "tumbling tower" pieces that are gathered one moment and dispersed the next. The pieces, which consist of paintings and other objects, imply Na Kim's perspective on everyday patterns, texts, colors, materials, and textures. That is, they elude to her thoughts and questions, for instance, regarding the rational and categorical basis on which the mesh foam, in a particular color and weave, is matched with its fruit or vegetable and the influence that texts, instructions, functions, and textures of objects have on our thinking and behavioral patterns.

The concept of a "tester" is introduced when a product or an experiment is nearing completion or at the final stage of a process where a verdict is imminent. Prior to a "tester," a developer may be in a state of confidence and assurance about the logic of their initial hypothesis or expected functions of their product as they are tying up loose ends. Similarly, Na Kim assumes the role of the examiner, the "tester," who endlessly questions herself and near-perfects her work. Moreover, by calling the overarching process of exploring the archive to reflect on the past the "tester," Na Kim implies that her work is ongoing. The dynamic lines, colors, and patterns saturating the decisively arranged archive and the wall-length mural, along with the objects and small paintings across from them, create an interplay of individual visual imageries, revealing Na Kim's attitude as an artist. They eagerly anticipate for visitors to enter the gallery, become variables that activate the visual experiment, and become a part of an unfinished tester.
Na Kim (b. 1979) received her B.S. in Industrial Design from KAIST, Korea, received her M.F.A. in Visual Communication Design from Hongik University, and completed her master's course at Werkplaats Typografie in the Netherlands. She has held her solo exhibitions at ICA (2021, Philadelphia, US), A to Z (2020, Berlin, DE), Buk-Seoul Museum of Art (2020, Seoul, KR), FISK Gallery (2019, Portland, US), DOOSAN Gallery New York (2015, New York, US) and Gallery Factory (2011, Seoul, KR). She has participated in group exhibitions at venues that include Lisbon Architecture Triennale (2019, Lisbon, PT), Gwangju Design Biennale (2019, Gwangju, KR), DDD Gallery (2018, Kyoto, JP), Seoul Biennale of Architecture and Urbanism (2017, Seoul, KR), Kukje Gallery (2016, Seoul, KR), MMCA (2013, Gwacheon, KR), V&A (2013, London, UK) and Milan Triennale Museum (2011, Milan, IT).