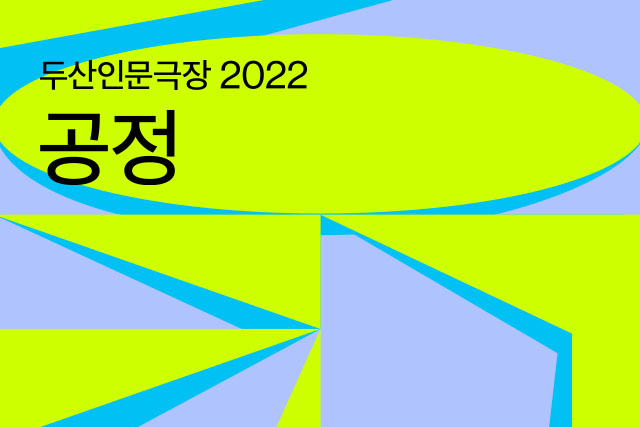 DOOSAN Humanities Theater 2022: fairness
Lecture
Apr.04.2022 ~ May.30.2022
InfoNo charge

Mon 7:30 p.m.
DOOSAN Humanities Theater

DOOSAN Humanities Theater brings together sociological, humanities and artistic imagination on humans and society. Each year, a theme is selected to be discussed in a variety of ways, including performances, exhibitions, lectures, and artist talks. Past subjects include "Big History" in 2013, "The Age of Distrust" in 2014, "Exception, Mutation, or Abnormality on the Borders" in 2015, "New Imagination on the Extended Territory" in 2016, "Conflict" in 2017, "Altruist" in 2018, "Apartment Nation" in 2019, "FOOD" in 2020. The theme for 2022 is "Fairness".
Fairness

God, or nature, is not fair. Everything looks different and has a different position. The state of energy is heterogenous even in an atomic state that's likely to be even and uniform. The larger the unit outside the atom, the greater the difference, and this gap widens. It makes sense that everything in the world has a different look. And depending on appearance, everything has a different use and role. However, complex problems occur when this problem is applied to humans, because according to the principles and basic spirit of our society, humans must all be "equal before the law" which is based on "fairness". Everyone in the world has different looks and abilities; isn't it absurd that everyone should be equal and cast the same vote as per the principles of democracy? A world where everything is the same is a dead world. If the temperatures of the two places are the same, no heat flows in between. If the concentration of the two places is the same, the force to eliminate their difference would not be applied. Differences and imbalances create tension, which causes the world to move. What does it mean for this world to move vigorously with energy while implementing fairness? The reason this question is asked is because there is a strong demand for fairness in various fields, and a broader analysis of this idea is needed. How can we embrace fundamental differences such as generation, gender, race, etc. in fairness when we have no choice but to live with each other? How can we refine the intense movements that take place in it with power directed at the future? DOOSAN Humanities Theater attempts to explore the answers to these questions.