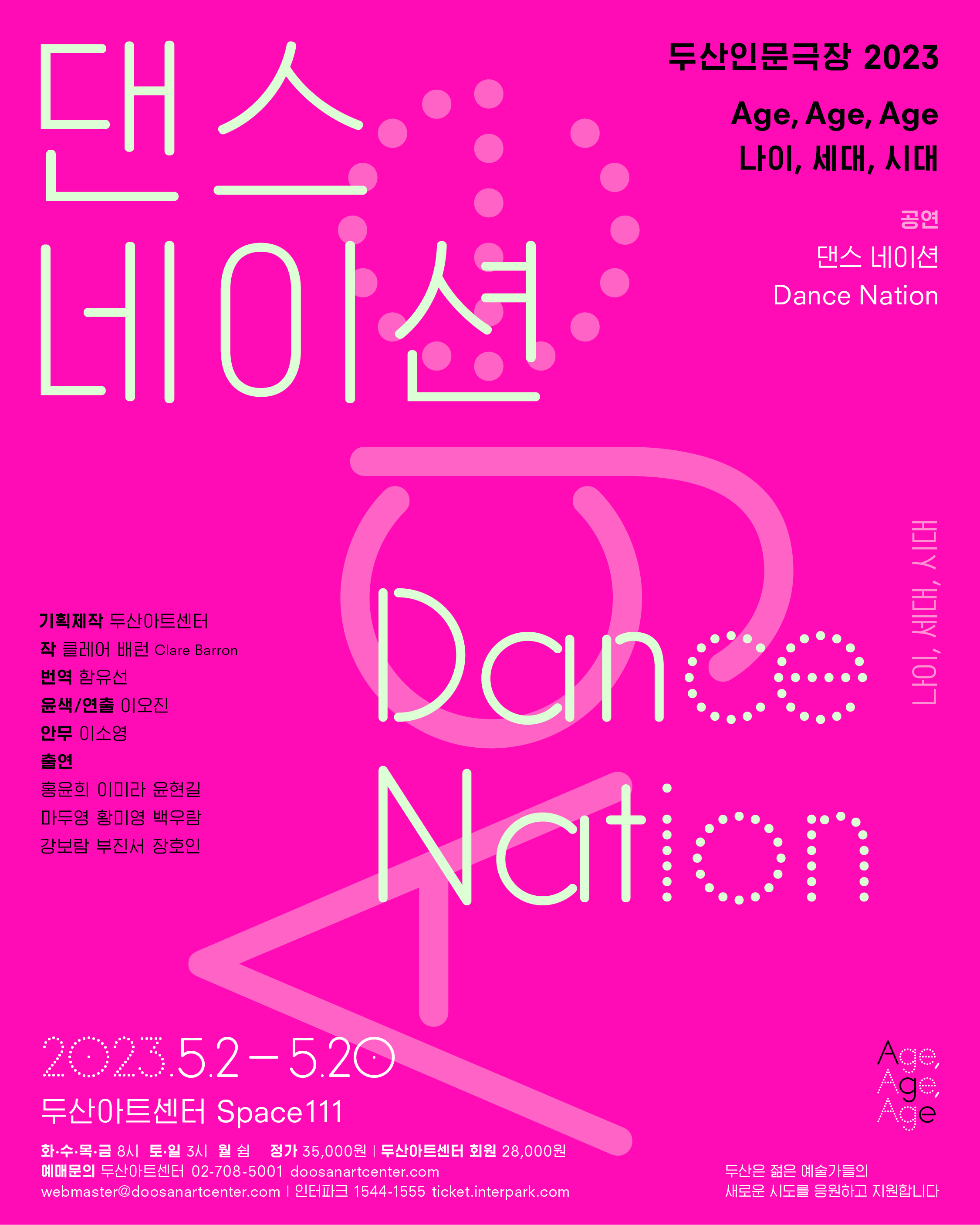 Play
Dance Nation
DOOSAN Humanities Theater 2023: Age, Age, Age
May.02.2023 ~ May.20.2023Space111
Thur-Fri 8pm / Sat-Sun 3pm

35,000won

Over 14 age

110min
DOOSAN Humanities Theater
DOOSAN Humanities Theater brings together sociological, humanities and artistic imagination on humans and society. Each year, a theme is selected to be discussed in a variety of ways, including performances, exhibitions, lectures, and artist talks. Past subjects include 'Big History', 'The Age of Distrust', 'Exception, Mutation, or Abnormality on the Borders', 'New Imagination on the Extended Territory', 'Conflict', 'Altruist', 'Apartment Nation', 'FOOD', 'Fairness'. The theme for 2023 is "Age, Age, Age".
Age, Age, Age
COVID–19 has rekindled discussions about the elderly, the aging population has long been an issue in our society.
These changes challenge existing rules. Balance and harmony seem to be creating divisions and conflict. The traditional belief that older people's wisdom contributes to the community and that looking after our elders brings prosperity to our descendants, no longer seems valid. The generational conflict between the old and the young is not temporary, but rather will pose problems for a long time to come. Aging is an important subject not only at a personal level but also for society at large.
For as long as we are alive, age will always be an issue. At a certain point in our development, we long to be older, while at other times, we want to avoid it. The complex nature of aging arises solely because it is the sum of our objective values and subjective experiences. In this regard, "age" continues to "aging" and "generation" and expands to "population," "caregiving," and "technology." This realm cannot exclude "conflict" and "social problems." DOOSAN Humanities Theater 2023 intends to evaluate age and find wisdom.
Dance Nation
Dance Nation tells the coming-of-age story of teenage girls who discover their physical desires through dance. They sketch a fierce world of dance as they dream of holding up the trophy in a dance competition held in Tampa Bay, Florida. When we're long past our teens, can our bodies still feel what we felt back then? The girls' competitive world of dance will bring back memories of our radiant, dynamic youth. As we realize that the incidents and feelings experienced in our teens remain in our bodies, we will come to face the teenager in ourselves. The teenage girls who appear in the performance are played by actors of various ages, who boldly express their physicality, desires, and emotions.