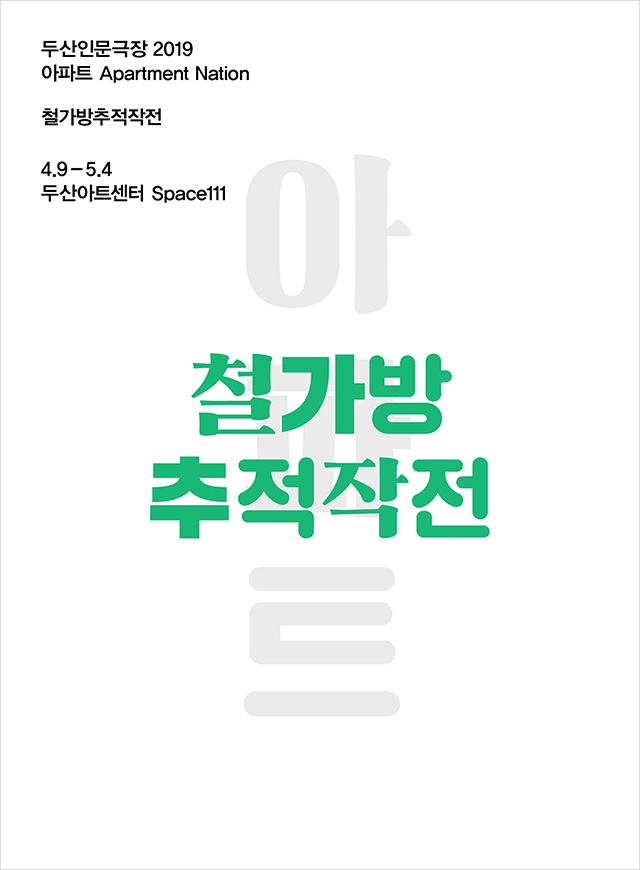 Play
Tracking down the Steel container
DOOSAN Humanities Theater 2019: Apartment Nation
Apr.09.2019 ~ May.04.2019Space111
Tue-Fri 8pm
Sat-Sun 3pm

90min

35,000won

Over 14 age
DOOSAN Humanities Theater 2019
Apartment Nation

The symbolic architecture of Korea today is not the four gates or the palaces but the apartment. Although the apartment is an architectural structure that came from abroad, it was the most successful in Korea and has become the most 'Korean' architectural structure. Apartments in Korea have always been subjects of devaluation in the traditional Western-centered humanities. This is most likely a direct outcome of the fact that the apartment no longer fulfills its function as a dwelling space, but has also become a product for investment. But this doesn't mean that we can just get rid of apartments altogether. In a country lacking public housing, the apartment is still favored as the most safe and pleasant dwelling space. For the young generation, apartments undergoing redevelopment stir up nostalgia for home. For some, the apartment is an aesthetic subject. In order to deal with the intricately woven sentimentality regarding the apartment, diverse perspectives from various fields including architecture, sociology, economy and anthropology are necessary to contemplate on the trend of life for Koreans, who have passed through periods of westernization and modernization, and to consider a better direction of life.

Tracking down the Steel container
Tracking down the Steel container is an adaptation of the short story by Kim Yoonyoung. This play tells the story of an apartment complex where its residents ostensibly live within a standardized framework, but in fact have wide social and economic gaps between each other. One day, the money for the yearbook is stolen from Bong's class, where the students "normally get along with each other without any conflicts, sharing food, kicking balls and playing games with each other." Suspected of the theft, a student named Jeonghoon runs away from home. Bong begins to track down Jeonghoon to bring him back to school. The story urges the audience to reflect on antagonism and discrimination deeply rooted beneath our subconscious, and asks what it means to live alongside others.