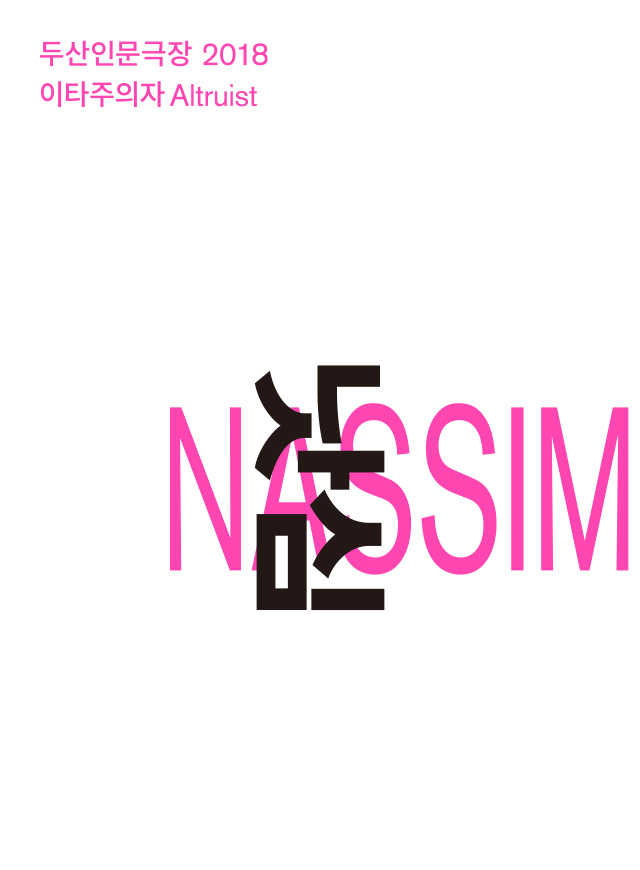 Play
NASSIM
DOOSAN Humanities Theater Series: Altruist
Apr.10.2018 ~ Apr.29.2018Space111
Tue~Fri 8pm
Sat 3,7pm / Sun 3pm

70min

30,000won

Over 14 age
NASSIM
‹NASSIM› is the latest work by the Iranian-born artist Nassim Soleimanpour. It premiered at the Edinburgh Fringe Festival in 2017, and was prized the Fringe First 2017. Focusing on an unfamiliar subject of the Iranian language, it captures the communication between writer, actor and audience. This work transcends the limitations of boundaries, culture and language, and questions the universal language of the human kind and what it means to understand the world and the other. In this experimental and improvisational one-person play involving just the writer, actor and audience without any direction or stage set, a new actor in each performance conducts the play on the stage with the audience, in accordance with the direction of the script on stage.
*A BUSH THEATRE PRODUCTION
Writer and Performer. Nassim Soleimanpour
Director. Omar Elerian
Designer. Rhys Jarman
Sound Designer. James Swadlo
Lighting Designer. Rajiv Pattani
Production Manager. Michael Ager
Script Editors. Carolina Ortega and Stewart Pringle
NASSIM was produced by the Bush Theatre and opened at the Edinburgh Fringe Festival at the Traverse Theatre on 3 August 2017.