Ben RiversSlow Action Apr.11.2013 ~ May.09.2013DOOSAN Gallery Seoul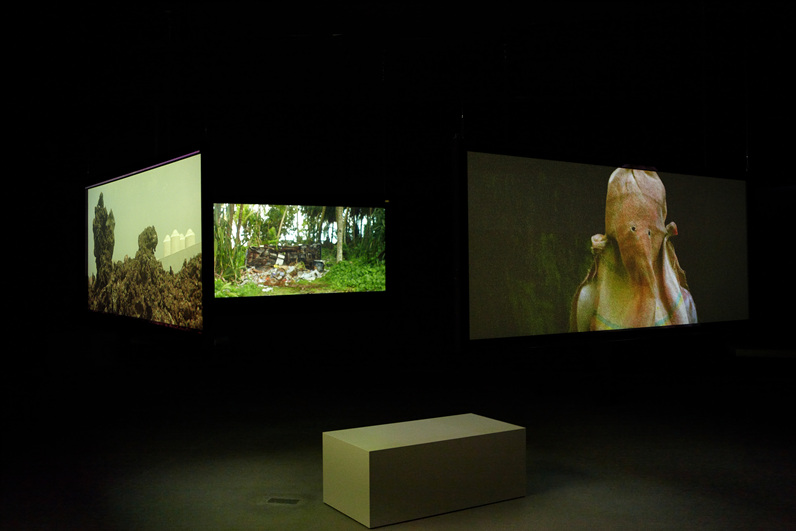 Ben Rivers
Slow Action
Installation View

Doosan Humanities Theater
Slow Action

Ben Rivers
2013. 4. 11 – 5. 9
Doosan Humanities Theater 2013 is a comprehensive program encompassing different academic disciplines such as astronomy, biology, geology, sociology, archeology, and history within the overarching framework of "Big History" in order to explore the complex interaction between man and Nature, covering performance, exhibition, scholarly research and education.

DOOSAN Gallery Seoul introduces Ben Rivers' film Slow Action at the Big Life set as part of Doosan Humanities Theater 2013, presenting the series' approach to natural history. Ben Rivers, an artist from the U.K., has been featuring how different species including mankind evolve within the ecosystem in isolated environment from civilization at forgotten and abandoned locations.
Slow Action projects images simultaneously from four channels. The videos were filmed at different regions, including Lanzarote in Spanish Canary Islands nearby northwest African Atlantic shores; Japan's Gunkanjima –an island off the coast of Nagasaki, Japan; Tuvalu, one of the smallest countries in the world, with tiny strips of land barely above sea level in South Central Pacific and Somerset, U.K. This piece takes on the form of a post-apocalyptic science fiction, incorporating documentary, ethnographic study and fiction. The combination of Rivers' lyrical images and the imaginative writings of Marc Von Schlegell, a science fiction writer, paradoxically present a fictional utopia at a location which currently exists yet may soon disappear. He creates a personalized, imagined and yet possible utopia in the future and introduces to the viewers an unfamiliar experience of different and strange sites across the world.
Ben Rivers (b. 1972) studied Fine Art at Falmouth School of Art in U.K. He has had many solo exhibitions including Kate MacGarry (2012/2010, London, U.K), The Changing Room (2011, Stirling, U.K), Hayward Project Space (2011, London, U.K), Matt's Gallery (2011, London, U.K), Picture This (2009, Bristol, U.K), and Impressions Gallery (2010, Bradford, U.K). He has also exhibited widely at international film festivals and galleries including Hamburger Kunsthalle (2012, Hamburg, Germany), Castlefield Gallery (2009, Manchester, U.K), National gallery of Art (2009, Washington, DC, U.S.A), and Tate Modern (2009, London, U.K). He received the Fipresci Award for Best Film Orizzonti and International Critic's Week at 68th Venice Film Festival (2011), Baloise Art Prize from Art/42/Basel (2011), Paul Hamlyn Foundation Award for Artist (2010), was shortlisted for the Film London/Channel 4 Jarman Award (2010) and among others. Ben Rivers lives and works in London, U.K.