Hyangro Yoon

Hyangro Yoon
Nov.16.2017 ~ Dec.28.2017

DOOSAN Gallery New York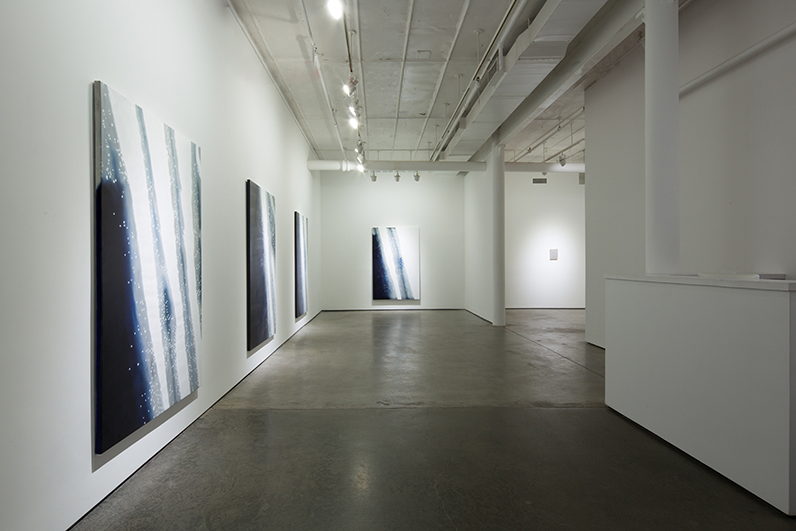 Hyangro Yoon
Installation View
Opening Reception: Thursday, November 16th, 2017, 6-8 pm
DOOSAN Gallery New York, 533 W 25th St., New York, NY 10001
DOOSAN Gallery New York is proud to announce Hyangro Yoon's New York debut Liquid Rescale, which will be open to the public from November 16th to December 28th, 2017. This exhibition comprises new paintings that Yoon completed during her stay at DOOSAN Residency New York.
Yoon's practice centers around digitally processing found images from mass media contents such as comic books and animation videos to subsequently print or paint the outcome onto canvas. The new paintings that are part of this exhibition maintain this methodology, and are an extension of the series shown at her previous solo presentation Screenshot at ONE AND J.+1 (Seoul, Korea) and O philoi, oudeis phials at Atelier Hermes, (Seoul, Korea), both held earlier this year.
The original medium that spurs these paintings into existence are scenes from a popular Japanese shōjo manga­­­­1 where the protagonist emits beams of energy or aura at times of transformation and combat. Yoon makes the original imagery unrecognizable by filtering it through two separate steps of digital editing and then transcribes it into painting. This process starts by isolating the selected scenes using the screen-capture function of the computer. The isolated images are then "expand-cropped"2 via Adobe Photoshop, a digital graphics editing software. While in the previous series "Screenshot" (2017), Yoon "expand-crops" the whole screen-captured image, in the new series from Liquid Rescale she becomes more discerning by cutting out specific parts of the image to edit. Yoon explains this new process as "a course of tracing the image" and focuses on the computer algorithm3 that creates a unique yet viable pattern. The digitally processed images are airbrushed onto the canvas instead of painted so that the texture reflects the pixelated quality of the original image more accurately.
This exhibition manifests an experiment of how the medium of painting combines with factors of alternative platforms in a constant exchange of the material and immaterial. Furthermore, it contemplates the role of painting in an environment saturated with imagery and data; their elimination and creation, shattering and reconstruction. Yoon explains that she had focused on the flatness of the medium of painting in the series previous to "Screenshot" (2017), whereas in the recent work she expands her investigation to abstract painting. She employs images that are endlessly reproduced and revised in the digital realm and produces them onto the canvas to study the artistic outcome created via control of the artist and the computer together.
1. Shōjo manga: A genre of Japanese comics and animated films aimed primarily at a young female audience, typically characterized by a focus on personal and romantic relationships.
2. Expand-Cropping: The 'crop tool' is a function in Adobe Photoshop that helps the user eliminate unwanted parts in an image. When using the crop tool, a frame with movable corners appears on the image, which allows the user to select the needed area. However, if one drags the corners of this frame beyond the edges of the original image, the crop tool ends up adding parts to the image, defying its original intent. Here, if the 'Content-Aware' function is activated during this procedure, the Photoshop software takes visual information from other parts of the image to create a virtual pattern in order to fill in the added parts.
3. Algorithm: (Computer terminology) a set of rules that induce the desired output through analysis of inserted data in order to solve problems.
Hyangro Yoon (b. 1986) received her B.F.A. in Painting from Hongik University and M.F.A. in Fine Arts from Korea National University of Arts. She has held solo exhibitions at ONE AND J. +1 (2017, Seoul, Korea), Insa Art Space (2014, Seoul, Korea), and Gallery 175 (2012, Seoul, Korea). She has also participated in group exhibitions at venues that include Atelier Hermes (2017, Seoul, Korea), Arario Gallery Seoul (2017, Seoul, Korea), Digital Art Center of Taipei (2016, Taipei, Taiwan), Arko Art Center (2015, Seoul, Korea), Ilmin Museum of Art (2015, Seoul, Korea), Songwon Art Center (2015, Seoul, Korea), National Museum of Modern and Contemporary Art, Korea (2015, Seoul, Korea), Common Center (2014, Seoul, Korea), Kukje Gallery (2013, Seoul, Korea), and DOOSAN Gallery Seoul (2009, Seoul, Korea).