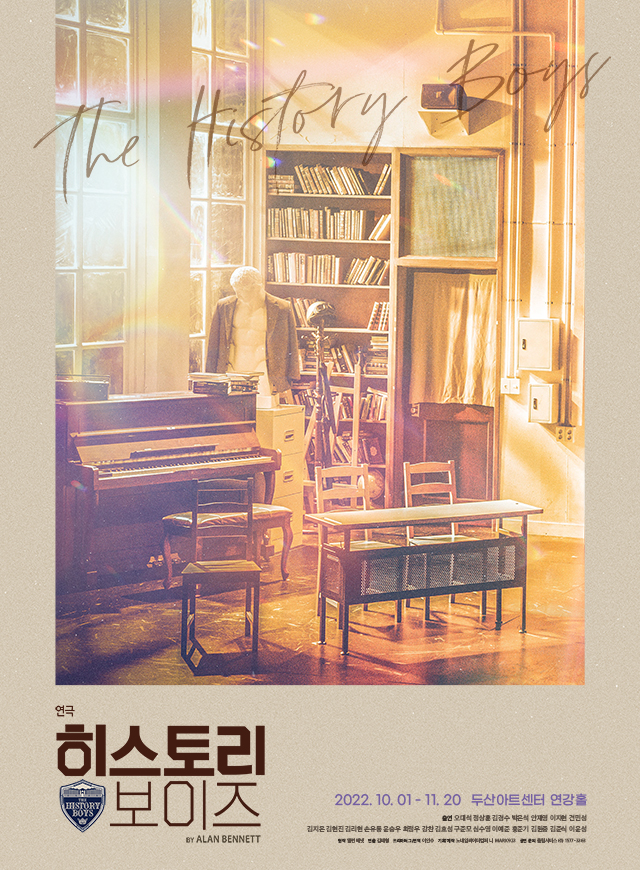 Play
The History Boys
Oct.01.2022 ~ Nov.20.2022Yonkang Hall
Tue,Thu,Fri 7:30pm / Wed 3pm, 7:30pm / Sat 2pm, 6:30pm / Sun 3pm

195min (Include intermission)

R 77,000won/ S 55,000won/ Visually Limited Seats 22,000won

Over 14 age
THE HISTORY BOYS is a major work by the British playwright Alan Bennett. Since its first premiere in Korea in 2013, it has received continuous praise for its humorous but faithful presentation of life.

The play is set in a public high school in the UK in the 1980s, and portrays the relationships between eight students preparing for college entrance and the teachers who each guide them in their own particular ways.

Incorporating rich material from history, philosophy, poetry, and music, along with a good dollop of witty intellectual humor, the play shows the process of learning and teaching in a relaxed and humorous light.