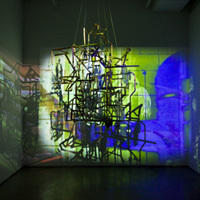 1970 born in Seoul, Korea
Live in New York, U.S.A.
Education
2005
M.F.A. Photography, Video and Related Media, The School of Visual Arts, New York, NY, U.S.A.
2003
M.F.A. Computer Art, The School of Visual Arts, New York, NY, U.S.A.
1995
B.F.A. Industrial Design, Hongik University, Seoul, Korea
Solo Exhibitions
2017
Old Exterior, PARADISE ZIP, Seoul, Korea
2014
Memories of the future, 'Old house' space CAN, Seoul, Korea
2010
Luminous Links, Aando Fine Art, Berlin, German
2009
Somewhere in Mind, The Room, Total Museum of Contemporary Art, Seoul, Korea
2007
Lost woods, Project Space Sarubia, Seoul, Korea
Selected Group Exhibitions
2016
Sangsang garden, Seoul Innovation park, Seoul, Korea
ALICE'S ADVENTURES IN WONDERLAND, VIRTUAL REALITY, Suwon iPark Museum of Art, Suwon, Korea
2015
The Divine and Sublime, Drawing Rooms, Jersey City, NJ., U.S.A.
The 3rd Amado Annual-nale: On Going, Amado Art Space, Seoul, Korea
into thin air, Kumho Museum of Art, Seoul, Korea
completion in incompletion, Gallery Absinthe, Seoul, Korea
53rd international show, San Diego Art institute, San Diego, CA, U.S.A.
2014
Small works 2014, Trestle Gallery, Brooklyn, NY, U.S.A.
Double mirror, American university museum, Washington DC, U.S.A.
camera lusida, Coohaus gallery, NY, U.S.A.
Neo-sansu, Daegu Art Museum, Daegu, Korea
2013
Slow Art, Art Factory gallery, Heyri, Paju, Korea
In making, JCAL-KCNYC workspace artist's project, Jamaica Center for Arts & Learning, Jamaica, NY, U.S.A.
2012
2-1 project, Hong Ik element school, Seoul, Korea
Pride of place, 2012 Yeosu international art festival Yeulmaru, Yeosu, Korea
the rule of reproduction, Gallery Chosun, Seoul, Korea
Infinity of stories, Gallery Ho, NY, U.S.A.
2011
The far side of the moon, Gallery Skape, Seoul, Korea
NyLon Exchange exhibition of London and NY, Korean Culture Center of NY and London, U.S.A and U.K
Haein Art Projcet, Haeinsa, Hapcheon, Korea
Glass in all senses. Brattleboro museum & Art center, Brattleboro, Vermont, U.S.A.
Was There, DOOSAN Gallery New York, New York, NY, U.S.A.
2010
Intuition, Hakgojae Gallery, Seoul, Korea
Healing, Seoul art space_Seong buk, Seoul, Korea
2009
Resonance Green Korea, Climate Change in the Bosom of Culture, Frederiksberg Town Hall, Copenhagen, Denmark
Salon des Artistes Independants, Art en Capital, Grand Palais, Paris, France
Magische Momente: Korea Express (Magic Moments: Korea Express), Made in Korea, Messe art festival, Hanover, Germany
2006
Neuroculture: Visual Art & the Brain, Westport Arts center, Westport, New York, U.S.A.
Moving Time, Nam Jun Paik with 30 international video artists,the Korean Cultural Service, New York Residency, U.S.A.
2005
underTONE, Group show, Mushroom arts, New York, U.S.A.
Residencies
2010
Mong In international residency program, Seoul, Korea
2008
Chenlinghui contemporary art space residency program, Beijing, China
2007
I-Park residency, East Haddam, CT, U.S.A.
2006
Bemis Art center residency, Omaha, Nebraska, U.S.A.