Choi Yun, boma, ghim dahwan

Shame on you
Jan.26.2017 ~ Feb.23.2017

DOOSAN Gallery New York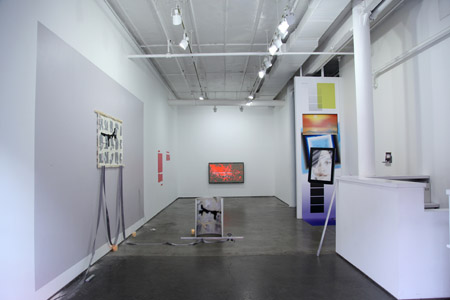 Choi Yun
installation view

Curated by Leeji Hong
Opening Reception: Thursday, January 26th, 6-8 pm
DOOSAN Gallery New York, 533 W 25th St., New York, NY 10001
DOOSAN Gallery New York is pleased to announce a group exhibition, Shame on you from January 26th through February 23rd. This exhibition was curated by 2013 DOOSAN Curator Workshop participant Leeji Hong, and includes the work of artists ghim dahwan, boma, and Choi Yun.

"The hardest thing for us is to know ourselves, and we are most despicable when we do not know ourselves."* But once we recognize and reflect on our sense of shame, through that process we begin to recuperate, becoming better people. In 2016, much shame and disgrace from all over the world was flagrantly revealed and portrayed through media, such as hate, discrimination based on gender and sexuality, interference of state affair and others. Going beyond material limitations and physical boundaries, a spirit of empathy is still spreading in the world, causing many to come together in solidarity. Shame on you came out of the sense of agitation and questions that young artists were feeling and asking, both personally and also through the context of their art. While some feel empathy and solidarity while others do not, this exhibition poses the question: why is it still our responsibility to carry and acknowledge our society's shame?

Participating artists, ghim dahwan, boma, and Choi Yun explore these ideas through contemporary art, forging their own personal language in expansive forms. As these artists are of the generation accustomed to inhabiting the web sphere where time and space could be adapted and expanded, their work often present their everyday life and experience through the anonymity of the web or through a composite of images. The work of these young artists derives from the notion of visible embarrassment or the deja vu one may experience living within a saturated reality where the virtual and the real is blurred.

ghim dahwan (b. 1987) addresses the dysfunctional system of English education in Korea through his recent work, Eng life Eng: Note 5/1 (2015) in which language functions as an object to be conquered and quantified. He explores how regulation and discipline become internalized when one confronts an unclear and confusing situation. KIMDOMEOFICE (2015) also contains the autobiographical story of his experience in 'learning'. The story is written and covered in red tape and the dimly lit texts tell the moment of hide and seek.

boma's (b. 1988) our occasional ornaments 'Silverly' for 1,900 won (2017) responds to 'pseudo-sensibility' that can be brought up from virtual reality-such as 'fabricated' pleasures and value-that is not different from reality. The sparkling silver pigment that she mainly used in the work reflects her desire to own the original substance and evokes the feeling of shame that she wanted to conceal. In this exhibition, the artist explores a variety of mediums that she has showcased through her partially virtual advertisement company 'fldjf studio' to approach to the reality.

Choi Yun (b. 1989) directly engages with the feeling of shame by using her facial expression, gesture, and voice in exhibition spaces. The artist uses Hanaco as her alter ego who is an actual character that appears in a novel by Choi Yun, eponymous novelist in Korea. Her work, Hanaco and Mr. Kimchi etc. playback (2016) includes Korean advertising videos and those video clips are added or deleted based on the artist's choice.

Rather than the exhibition being a platform for remorse or repentance on the past, Shame on you desires to take action and articulate the fleeting and elusive emotions of agitation and tension sort of in an attempt to capture them and put them at a temporary stand still. As the exhibition stemmed from the awareness of our collective shame, the hope is for the show to serve as a means to be able to release and send these moments of anxiety, shame, and embarrassment to a place of memory.

*Jung Hee-Jin 정희진, "jeodeul-eun jagiga haneun il-eul alji moshaobnida" 저들은 자기가 하는 일을 알지 못하옵니다, the hankyoreh 『한겨레신문』, 2016. 12. 2
About DOOSAN Gallery and DOOSAN Residency in New York
DOOSAN Gallery New York and DOOSAN Residency New York are dedicated to discovery of and support for young and emerging Korean artists. Managed by DOOSAN YONKANG Foundation in Seoul, Korea, DOOSAN Gallery New York is Korea's first non-profit organization to be officially recognized by the State of New York and the New York City Department of Education. The organization provides artists with resources, such as studio and exhibition space and housing in New York City. The organization's mission is to serve as a gateway to significant exposure and opportunities for the artists by nurturing their creativity and helping them share their work with a broader audience.