Eusung LeeEpitaphs Oct.21.2023 ~ Nov.19.2023DOOSAN Gallery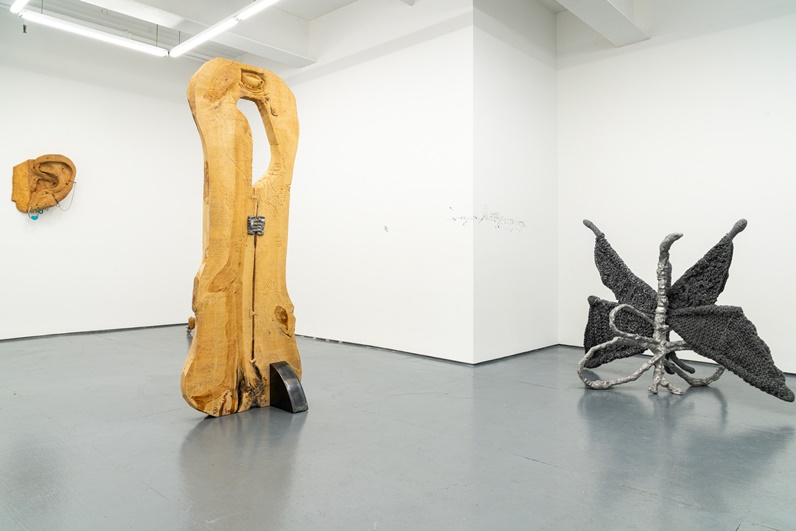 Installation view
Venue: TSA NY (1329 Willoughby Ave #2a, Brooklyn, NY, USA)
Free Admission
Organized by DOOSAN ART CENTER
Co-Organized by TSA NY
Tiger Strikes Asteroid New York, in collaboration with the DOOSAN Art Center, is thrilled to present Epitaphs, the inaugural solo exhibition in New York by the critically acclaimed South Korean sculptor Eusung Lee. This exhibition is a part of DOOSAN International Program, designed to expand the global reach of contemporary Korean art through partnerships with Tiger Strikes Asteroid New York.
In Epitaphs, Lee will showcase a series of sculptures and wall-mounted reliefs that evoke a strong sense of bodily presence and narrative possibilities. In today's rapidly digitizing world, where the boundary between the virtual and the tangible often blurs, Lee remains dedicated to the richness of physical space and the sensory experiences offered by handcrafted materials. She embraces the classical lineage and tactile qualities inherent to sculpture, seamlessly melding an array of media, including wood, clay, metal, paper, fabric, yarn, and ready-made objects.
Doodled Kouros (2021), a large wooden panel, alludes to the iconic Ancient Greek sculptures of nude male youths. Lee stumbled upon the slab of wood in a carpenter's shop where it was originally intended to become a table. Recognizing its latent potential, Lee worked with the panel's inherent characteristics and contours, inscribing the wood grain with marks that alternated between random and intricate. Her carvings included low relief coffee cups, butterflies, and flowering plants—motifs that recur throughout her work and are both universally familiar and deeply personal.
Colloquial Falling (2021-2023) represents a fusion of intersecting forms, reminiscent of both butterflies and human spines. Like much of Lee's oeuvre, this sculpture engages in an intricate interplay between brutality and care. Delicate insect forms emerge from roughly modeled aluminum, carefully cloaked in knit wool. Within this juxtaposition of warmth and cold, the human and the otherworldly coexist in an intuitively balanced composition.
Pierce, Jane (2019) features an oversized, wall-mounted wooden ear meticulously punctuated by an array of metal earrings and hoops. The name 'Jane' alludes to both the artist's elder sister, who emigrated to the United States long ago, and the enigmatic "Jane Doe"—the term given to an unidentified woman. The ear's form is based on Lee's fascination with her older sister's pierced ears. Piercing was a rarity in South Korea at the time and became a source of fascination for the artist, symbolizing the unfamiliar, exotic, and dangerous facets of American culture. The ear, while serving as a monument to her sister, also represents the artist as a listener—open to new possibilities and eager to connect.
Eusung Lee (b. 1989) is a visual artist currently living and working in Seoul, South Korea. She holds a BFA from Hongik University and an MFA from Korean National University of Art. Lee has exhibited her work in many museums and art centers, including Art Sonje Center, Hite Collection, WESS, Art Space Boan, Space Catalog. Lee was also a resident artist at Seoul Metropolitan Nanji Art Studio.