DOOSAN Gallery Special ExhibitionManiera Nov.15.2023 ~ Dec.16.2023DOOSAN Gallery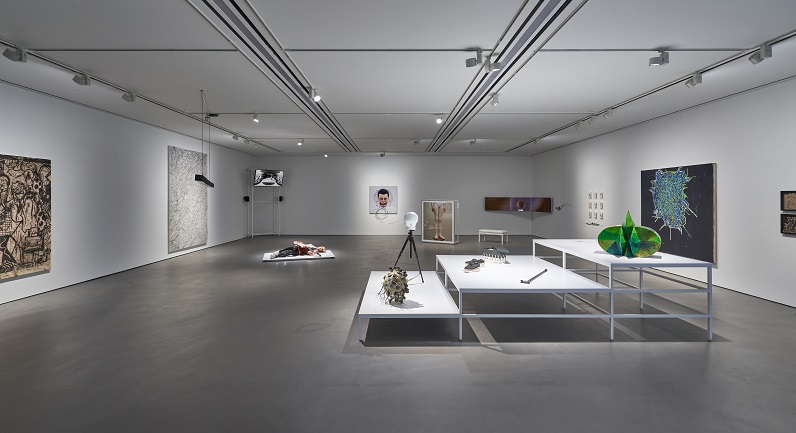 Installation view
Tuesday-Saturday 11:00~19:00 / Closed on Sunday and Monday
DOOSAN Gallery: 15, Jongno 33-gil, Jongno-gu, Seoul, Korea
Tel. 02-708-5050
Artists: Donghee Koo, Osang Gwon, Inbai Kim, Gwangsoo Park, Yoon Hwan Bae, Nakhee Sung, Min Oh, Hyungkoo Lee, Youngzoo IM, Seo Young Chang, Chang Jia, Jang Pa, Sojung Jun, Jihyun Jung, Heeseung Chung, Jeamin Cha, Yun Choi, Ham Jin, Sue Yon Hwang
DOOSAN Gallery is pleased to present Maniera, a group exhibition, from November 15th (Wed.) to December 16th (Sat.), 2023. Part of DOOSAN Gallery's permanent collection, the exhibited works are by 19 artists—Donghee Koo, Osang Gwon, Inbai Kim, Gwangsoo Park, Yoon Hwan Bae, Nakhee Sung, Min Oh, Hyungkoo Lee, Youngzoo IM, Seoyoung Chang, Jia Chang, Jang Pa, Sojung Jun, Jihyun Jung, Heeseung Chung, Jeamin Cha, Yun Choi, Ham Jin, Sue Yon Hwang—who have worked with the gallery since its opening. By virtue of these artists and their works, the exhibition endeavors to overlap various spatiotemporal dimensions.
The exhibition title, "maniera," is an Italian word that means "style" and the root word for "Manierismo (or Mannerism)," a short-lived art movement that emerged in the 16th century, during the transitory period from the Renaissance to Baroque. Art from this period is difficult to categorize as it straddles the symmetrical perfection of Renaissance masters and the dramatic harmony of Baroque chiaroscuro, yet it possesses an uncanny and somewhat enigmatic quality. Many art historians have had contending views of "maniera," some criticizing it and others endorsing it. Some have denounced its name, sticking to "Late Renaissance" and regarding it as a crude attempt that fell short of its glorious precursor. In contrast, others have seen it as a manifestation of the artists' developed self-awareness, a time that marks the transition of "artisans" into "artists" and the advent of the artist's identity. In other words, to these scholars, "maniera's" characteristics of exaggerated proportions, distorted forms, and illogical compositions were subversive—they were a renewal of aesthetics that were deviant of conventions.
The works featured in Maniera, however, span a range of forms, mediums, and time periods. As mentioned earlier, the only common thread tying them all together is their history with DOOSAN Gallery. The collection, hence, embodies DOOSAN's extensive timeline, the 15 years from its launch in 2007 through its period of readjustment during the pandemic in 2021. On the one hand, these works might be a temporal bridge between the artists' past and the present, but on the other hand, they might appear strange to an audience that is more familiar with their current work. The exhibition Maniera, as the name suggests, centers on the works as the embodiment of each artist's unique individuality. The time that artworks stay in an exhibition space can be considered limited in several respects, referring to both the physical length of time and a specific time period. DOOSAN Gallery has shared a specific moment throughout the extensive journey of artists and their works.
If something exists in a liminal space, would it be fair to retroactively apply the linear logic of history to it? A notable fact is that Michelangelo, the iconic Renaissance master, was the very pioneer of "maniera." Everyone is bound to experience changes and pivots throughout life, whether they are at a point where everything seems complete or, conversely, lost in overwhelming uncertainty. To artists, these are moments of unpredictable flux, when bursts of ideas and originality occur in their practice and in the unique lifecycles of each of their works. The exhibition Maniera strives to capture these moments.