Heemin ChungReceivers Sep.13.2023 ~ Oct.21.2023DOOSAN Gallery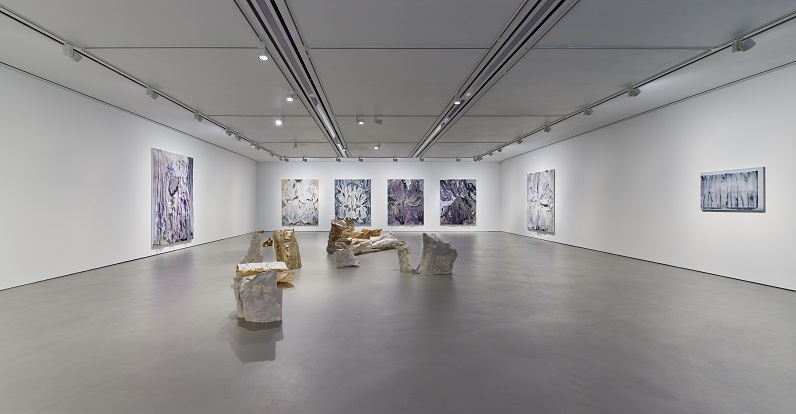 Heemin Chung
Installation view
Tuesday-Saturday 11:00~19:00 / Closed on Sunday and Monday / Closed on September 28–30
DOOSAN Gallery: 15, Jongno 33-gil, Jongno-gu, Seoul, Korea
Tel. 02-708-5050
DOOSAN Gallery is pleased to present Heemin Chung's solo exhibition, Receivers, from September 13 to October 21, 2023. A seminal contemporary painter, Heemin Chung is the recipient of the 13th DOOSAN Yonkang Arts Awards. Chung explores the altered modes of image existence and perception caused by today's digital world. Through various experiments centered on painting, Chung delves into the physical and emotional concerns of those—us—living in that world. In the current exhibition, Receivers, Chung takes images that escape the flatness of painting to metaphorize a "skin" that is thin and fragile yet all-sensing and all-encompassing as she evokes a primordial form of reproduction and creation.
Flower muscle that opens bit by bit(1)
the meadow-morning of the anemone,
until into her lap the flowing light
of the loud sky pours its polyphony,
muscle of endless receptivity(3)
tensed in the motionless star of the blossom,
sometimes so overcome with plenty
that the call to rest of the setting sun
can hardly give you back again the furls
of the wide-sprung edges of the leaves:
you, resolve and strength of how many worlds!
We violent beings we endure longer.
But when, in which one of all our lives,
will we at last be open, be receivers(2)?
– Rainer Maria Rilke, Duino Elegies (the fifth poem of the second part of The Sonnets to Orpheus, 1923. Translated from Deutsch by Stephen Mitchell)
Flowers, with petals and filaments so easily crushed and crumpled, have safeguarded their fragility and super-sensitivity throughout history to become beings that can embrace all external stimuli. Using the strength of flowers(1) as a motif, Chung presents this exhibition as an endeavor to closely represent beings, or their persistent practices, that sensitively receive and newly recode the inundation of signals from their surroundings.
Since 2017, Chung has explored the acrylic medium as a body, materially and metaphorically, and utilized its transparent and flexible attributes to expand her painting practice. Acrylic medium, typically added to pigment for extra volume, was originally devised as an alternative material that stretches out paint or mimics different textures. However, Chung employs the attributes of acrylic medium, a receptor and simultaneously a penetrable lens for the image/object, as a method to visualize how our abstract bodies sense and embody information. The transparent bodies (medium), clear of pigment, don various nature images Chung collected from the internet through acrylic air-brushing, inkjet printing, and UV printing. These bodies, much like petals of a blossoming flower, layer upon and interweave with one another, becoming uncertain entities full of potential. This process resembles the tactics of "receivers"(2), who replicate or imitate other forms of nature or absorb their surroundings to obscure or, conversely, highlight their existence.
Images escape flatness as Chung gives them new bodies and displays them in space (The Plain of those who Survived, 2023). This sculpture comprises photo-scan models of nature images, such as mysterious traces of life found on the bark of a tree, the shell of a crustacean, or the surface of minerals, collected from multiple online sources. It is an imperfect amalgamation, a mash-up of forms, substances, and textures not yet unearthed or of unidentifiable history. Chung amplifies the bodily sensation by mixing different times and spaces of forms that are not among her immediate time and space, points she never reached during the process of work, and histories of mysterious shells as she envisions their surfaces, imagining the haptic qualities she has not encountered in person.
As one begins to walk further away from the forest, each individual natural being starts to blur into one another. On the other hand, when one peers deeply into a small flower, its distinct subjectivity becomes faint and begins to appear as a singular form. Receivers presents a mixture of macro and micro-observations—it is the epitome of a space, and a state, of undefinable generations, creations, and transitions. Beings synthesized by Chung do not exist as discernable objects or scenes but rather become moments of endless receptivity(3). With their strong muscles unfurled, they tirelessly receive an influx of signals and transition them into different senses.
Heemin Chung (b. 1987) holds a bachelor's degree in painting from Hongik University and a master's degree in painting from the Korean National University of Arts' Department of Fine Arts. Chung has held solo exhibitions such as How Do We Get Lost in the Forest (Sindoh, Seoul, 2022), Seoulites (Museumhead, Seoul, 2021), An Angel Whispers (P21, Seoul, 2019), and Yesterday's Blues (PS Sarubia, Seoul, 2016). She has also been shown in various institutions and group exhibitions, including Thaddaeus Ropac Seoul (2023, Seoul), Busan Biennale (2022, Busan), Pace Gallery (2022, Seoul), Nam-Seoul Museum of Art (2021, Seoul), Gyeonggi Museum of Modern Art (2020, Ansan), National Museum of Modern and Contemporary Art (2019, Gwacheon), Hite Collection (2018, Seoul), and Archive Bomm (2017, Seoul). In 2022, she was the recipient of the 13th DOOSAN Yonkang Arts Awards.