Eunhee LeeMechanics of Stress Mar.08.2023 ~ Apr.05.2023DOOSAN Gallery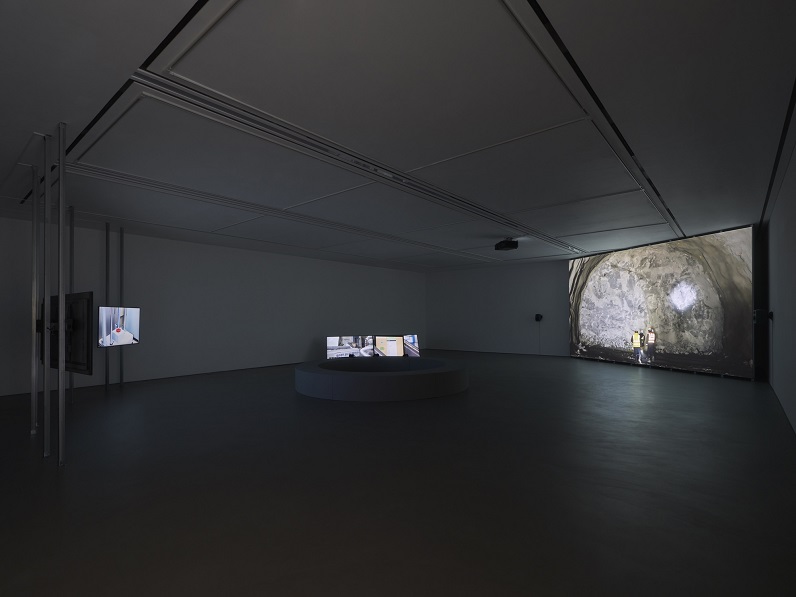 Eunhee Lee
Installation view
Tuesday-Saturday 11:00~19:00 / Closed on Sunday and Monday
DOOSAN Gallery: 15, Jongno 33-gil, Jongno-gu, Seoul, Korea
Tel. 02-708-5050
DOOSAN Gallery is pleased to present Eunhee Lee's solo exhibition, Mechanics of Stress, which will run from March 8th (Wed.) to April 5th (Wed.), 2023. In her work, Eunhee Lee has explored the contemporary technological environment, the relationship between machines and humans, and the social landscapes that facilitate such a relationship. While Lee has utilized materials associated with technological advancement, rather than indulging in these materials with mere wonder and curiosity, she has presented them as specific mediums that enable us to recognize the political and economic systems present in our society and to reflect on our lives built upon those systems.
This solo exhibition, Mechanics of Stress, presents scenes from a "reliability test" and "blasting," both industrial criteria that employ an engineering technique of assessing an object's maximum level of resistance against external force. "Reliability testing/engineering" is a discipline of engineering that classifies and simulates external disturbances to calculate the lifespan or durability of a product. For example, a product is exposed to various environmental stressors, such as extreme temperatures, constant vibration, or electrical currents, and its lifespan is determined based on how long it withstands such conditions before disintegrating or breaking. Then, based on the result, as well as the company's profit model, the appropriate duration of guaranteed quality assurance is determined. On the other hand, "blasting" is a process of destroying matter with an explosive. It is an advanced technology used to "blast" a set amount of rocks and other solid bodies in order to construct social infrastructures, such as roads and tunnels. The most critical factor in this technique is to measure and apply the appropriate level of force needed to meet the purpose while considering stability, efficiency, and economic feasibility.
Both of the above industrial criteria are subject to values set by economic profitability, but they simultaneously aim to find the "inherent limitation for an object to maintain its integrity" and prevent failures or accidents. Repetitive and continuous stress may push an object to its limits in no time. Conversely, identifying the limit is also recognizing something's maximum level of tolerance, which can become a way to understand and prepare for the conditions necessary for it to maintain a state of normalcy. In Mechanics of Stress, Eunhee Lee departs from her previous documentary method of meticulously recording and narrativizing. Instead, the above technological industries are reproduced and articulated by the (moving) images themselves. Mechanics of Stress manifests the precarious state or delicate moment, the state of something poised at the brink of breakdown under stress. It encourages us to imagine the impending limitations, not only of industrial products but also of individuals and society, and reminds us of the power of resistance.

Eunhee Lee (b. 1990) received both her Bachelor's degree and a Meisterschüler from Universität der Künste Berlin in Bildende Kunst and then grauduated from Korea National University of Arts with M.F.A. in Video Art. She has held her solo exhibitions at shhh (2022, Incheon), The Reference (2021, Seoul), CR Collective (2020, Seoul) and Open Circuit (2017, Seoul). She also has participated group exhibitions include Total Museum of Contemporary Art (2022, Seoul), basis project space (2022, Frankfurt), National Museum of Modern and Contemporary Art (2022, Seoul), Seoul Museum of Art (2022, Seoul), TINC (2022, Seoul), SeMA Bunker (2021, Seoul), Space Heem (2021, Busan), Nam-Seoul Museum of Art (2021, Seoul), N/A (2021, Seoul), Amado Art Space (2020, Seoul), ARKO Art Center (2020, Seoul), Wumin Art Center (2020, Cheongju), Seoul National University Museum of Art (2019, Seoul), Doosan Gallery (2019, Seoul), Museum of Contemporary Art Busan (2019, Busan), Coreana Museum of Art (2019, Seoul).