DOOSAN Gallery Special ExhibitionRales, wheezes and crackles Nov.16.2022 ~ Dec.17.2022DOOSAN Gallery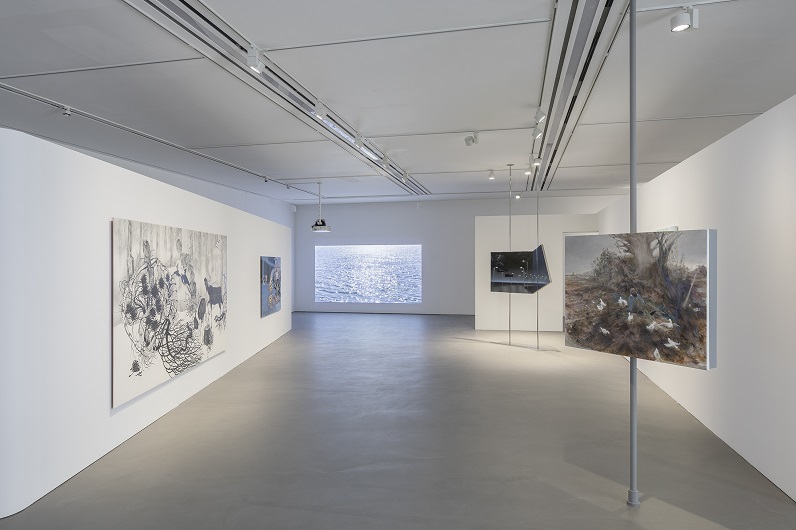 Installation view
Tuesday-Saturday 11:00~19:00 / Closed on Sunday and Monday
DOOSAN Gallery: 15, Jongno 33-gil, Jongno-gu, Seoul, Korea
Tel. 02-708-5050
DOOSAN Gallery is pleased to present Rales, wheezes and crackles, a curated special exhibition scheduled from November 16th (Wed.) to December 17th (Sat.), 2022. The terms "rale (crackle)" and "wheeze" in the exhibition title allude to descriptions of abnormal breathing. At a time when we are accustomed to having desired content fed to us by an algorithm and rapidly scrolling on the smartphone, we hope to present viewers an opportunity to slow down, take a breath, and see artwork in person. The thirteen artworks by Keem Jiyoung, Sejin Park, Joo Yeon Park, Nakhee Sung, Kai Oh, Seung Ae Lee and Hyori Cho will each become a zone that allows viewers a momentary retreat from the outside world where they can notice their own internal rhythm.
How much time do we spend examining or listening to our own breaths? Breathing is a natural activity, an unconscious yet essential series of movements that occurs throughout one's life, from birth to death. An adult is known to inhale and exhale an average of 16 to 20 times a minute. That is, in 24 hours, for more than 20,000 times, the air we breathe travels through our lungs and spreads throughout our bodies. A typical breath is almost inaudible, but in other cases, one can start hearing sounds in their lungs. As mentioned above, the exhibition title Rales, wheezes and crackles comprises words that are, on the one hand, onomatopoeias for abnormal breathing sounds and, on the other, medical terms for certain respiratory conditions. However, these sounds are not easily detectable by oneself, much less by others, and are primarily recognizable through a stethoscope. In other words, these are sounds that should not be there or inner murmurs one must make every effort to hear. Here, the exhibition invites viewers to pause with the artwork and, slowly and steadily, tune in on their own inner sounds.
In Glow Breath Warmth (2020), Keem Jiyoung calmly presents scenes of the sunrise and sunset, recorded with a smartphone, alongside a repetitive soundtrack of someone breathing. Sejin Park's landscapes, including Low Hills below Low Hills (2013), capture fragments of light that vacillate in numerous ways with time and with the season. Joo Yeon Park's Summer Light (2008) features a figure who uses a hand mirror, which constantly shines light into the space like echoes. Nakhee Sung's Resonance (2013) reverberates, starting from its central lines and colors to the invisible things outside the canvas. Kai Oh's photos of nature, such as Crab (2021) and Butterfly (2021), nest on membrane-like translucent fabric, allowing reality to penetrate it easily. The pencil lines in Seung Ae Lee's 1979 (2010) and Becoming (2017) emerge as the ball of thread that guides viewers into the works' mythical stories. Hyori Cho's I heard you looking (2021), based on her experience of using a two-person stethoscope to collect the sounds of a tree pumping water, launches the chest piece of a stethoscope toward the viewer.
After all, the themes or imagery of the work introduced in the exhibition are not necessarily those of peace and assurance that can ease the mind of visitors. Instead, some pieces can evoke anxious feelings, intend to be eerie or uncanny, or deliver bizarre sensations. Even so, we would like to urge viewers to spend time with each piece, coming face-to-face with them and really looking at every corner. So that once they detect their inner sounds, they can recalibrate: hinder if too fast and hasten if too slow. By doing so, we hope that everyone can leave the exhibition with the chance of having reflected on and vividly refreshed the images of themselves, standing here in the world.

* This exhibition is accompanied by related events, including "Close to the Low Hills below Low Hills ," a chance to face Sejin Park's Low Hills below Low Hills (2013) by oneself; "Teatime," a one-on-one session with the curator; and "Artists Talk" (See DOOSAN gallery's Instagram @doosan_gallery_seoul)