eobchaeeoracle Sep.21.2022 ~ Oct.19.2022DOOSAN Gallery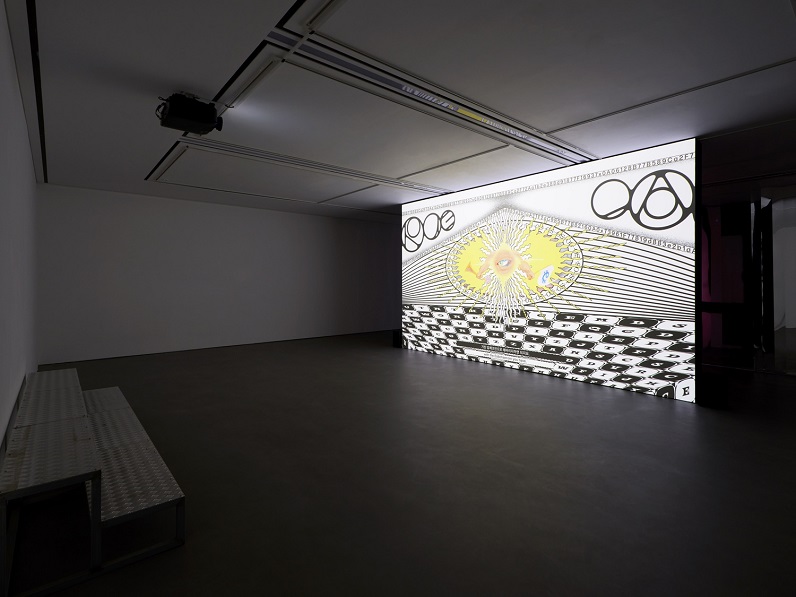 eobchae
Installation view
Tuesday-Saturday 11:00~19:00 / Closed on Sunday and Monday
DOOSAN Gallery: 15, Jongno 33-gil, Jongno-gu, Seoul, Korea
Tel. 02-708-5050
DOOSAN Gallery is pleased to present eoracle, a solo exhibition by 업체eobchae, the winner of the 12th DOOSAN Artist Award, from September 21st to October 19th, 2022. 업체eobchae is an audio-visual production consisting of Nahee Kim, Cheon-seok Oh, and Hwi Hwang, who has been pursuing to create original work by using their respective interests and skills while maintaining each other's critical points of view. Their work revolves around computing devices and various sizes of screens, crossing the boundaries of media such as video, web-based, sound, and performance. Meticulously examining new technologies and environments that accelerate the future, their work has been weaving a speculative worldview employing missing or eliminated perspectives in the gap as its axis.
The title of the exhibition and the main video work, eoracle, is space-time and narrative that stemmed from enthusiastic expectations and curiosity for Web3* , a decentralized network system where horizontal interchange is/will be possible. 업체eobchae oscillates between questioning, predicting, and imagining while attempting to keep a critical distance, withholding judgment towards Web3, which seems to be perceived as an ideal environment for everyone. eoracle, a world built with its unique storytelling methodology, including the use of attractive graphics and sound compositions, is a question about the size and trajectory of growing beliefs and desires that are amplified by the rhetoric towards an era that has not yet arrived.
In eoracle (2022), the story unfolds where a blockchain network in which a virtual alt coin called "Eobchaecoin" is circulated as a key currency, and the Eobchaecoin holdings are directly connected to the right to speak. Here, an Oracle organization named TrueDAO (an existence that serves an important function of adjusting the epistemological horizon of the on-chain by determining the truth of a specific fact by voting) distributes off-chain "facts" on-chain and receives Eobchaecoins as a reward. And "eoracle" is one of the best oracles and is dissatisfied with the tantalizing truth reward system. To the eoracle, TrueDAO's underground organization TrueTrueDAO's Oracle proposes a risky offer to acquire more Eobchaecoins, and the eoracle, who accepted the proposal, faces an even more dangerous crossroads of choice in order to secure the number of votes to be the owner of more truth.
What we call the latest invention reflects the shortcomings of pre-existing conditions or the desires of users that have not been resolved. And its ripple effect and influence are more powerful the closer they are to the basic human desires and capitalism, manipulating us to overcome the fear of risk easily. 업체eobchae looks back on the new technology emergence background and the process of establishing them and presents the possible future to be built from them with an objective perspective. The world eoracle, presented through the unique audiovisual language of 업체eobchae, provides an opportunity to face the new technology's birth and nature as an independent user, breaking away from a receptive or passive attitude. Furthermore, it can serve as a manual that measures and prepares for the gap between today and tomorrow. Can we really have the agency of choices and judgments when the future, full of ideals and abstract expressions, finally arrives?
* Web3 arose through the critical mind around the current Web2 where users can directly upload information on platforms such as Facebook and Twitter, and active communication and participation are enabled, which came about after Web1 where users only received information from websites. Web3 is a technological and cultural trend which emerged in opposition to Web2 centered on giant social network services. The leaders of Web3 criticize that the Web2 service monetizes user data collected under the pretext of communication and connection without permission, and that the profits are monopolized by platform companies called Big Tech. As an alternative to a single central structure that is vulnerable to external attacks, Web3 adopts decentralized blockchain networks as its main communication method. This method focuses on directly owning and managing data generated by users' activities, and building infrastructure in a transparent and distributed way by open-source network programs. However, Web3 still has many challenges, such as higher complexity and increased energy usage compared to the previous method.
업체eobchae (Nahee Kim, Cheon-seok Oh, Hwi Hwang) is an audio-visual production and has officially worked together since 2017. Their solo exhibitions were held at Museumhead (2022, Seoul), Nam June Paik Art Center (2019, Seoul), Space Four One Three (2017, Seoul), and iGong (2017, Seoul). They have participated in numerous group shows including those held at the FRIEZE FILM (2022, Seoul), ARKO Art Center (2022, Seoul), Hite Collection (2020, Seoul), Sehwa Museum of Art (2020, Seoul), Ilmin Museum of Art (2020, Seoul), Buk-Seoul Museum of Art (2018, Seoul) , Platform-L Contemporary Art Center (2018, Seoul) and many more. In 2021, 업체eobchae won the 12th DOOSAN Artist Award.