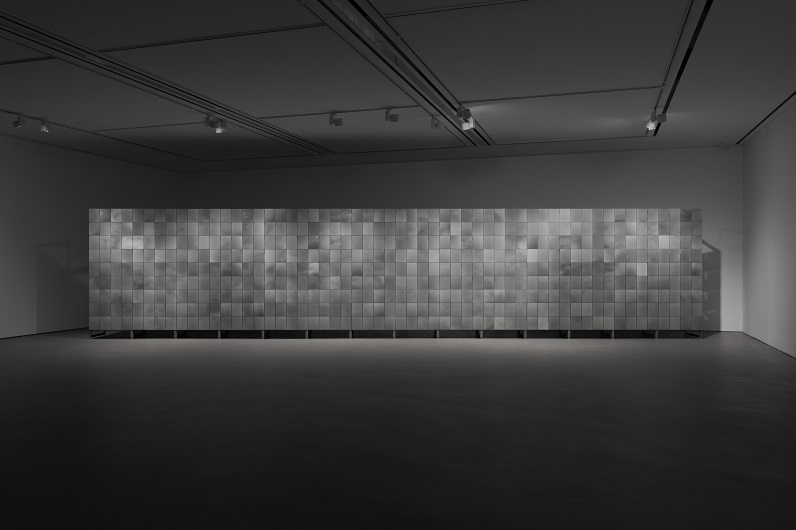 kdk
g_504_20150815-20200815
2022 gelatin silver print, mounted on iron plate, 504 pieces 22.5×18 cm (each)
Tuesday-Saturday 11:00~19:00 / Closed on Sunday and Monday
DOOSAN Gallery: 15, Jongno 33-gil, Jongno-gu, Seoul, Korea
Tel. 02-708-5050
From June 15th to July 20th, 2022, Doosan Gallery presents kdk's solo exhibition, g.
Using photography as the main medium, kdk has been active in both domestic and international art worlds since the early 2000's, including two group exhibitions at Doosan Gallery - The Photograph as Contemporary Art (2007) and Photo: Five Rooms (2016). This exhibition was organized to encourage and continue to support artists who have been with Doosan Gallery since its inception in 2007 by revisiting their works.
Exhibition g presents about 500 works from kdk's series, g, which the artist has compiled in a journal form since 2015. It is composed of black and white photographs of gray cloudy skies that were taken with a large film camera and rendered in "medium gray." For five years, the artist has carried a large camera and has taken pictures of the cloudy sky that he encountered serendipitously every day at any moment, anywhere. If photography portrays the three-dimensional world on a two-dimensional plane, kdk pays attention to photography's unique qualities to repeatedly study and capture the sky, a space that is three-dimensional but whose depth cannot be measured.
"Middle gray" is a tone that is produced when a monochrome subject is photographed in black and white with a precise exposure value, a reflectance of 18%. In photography theory, this gray is used as the standard for optimal exposure. Aligning with this theory, the artist found the middle gray in the series g by taking pictures of the cloudy sky in the exposure value that his camera configures as appropriate for the scene. At the same time, kdk logged the automatically registered GPS coordinates, date, time, and other private reflections or events in his records by taking pictures of the same sky on his smartphone. Through this process, objective standards and subjective memories of the time and space become data of the same hierarchy with the gray sky being the medium.
Although not explicitly evident, the theme of the work is made more visible through the attitude and meaning embedded in the production process. About 500 photographs of gray sky were produced using the "re-analogue" method. The artist scans and digitizes images shot with analog rolls, corrects them using digital tools, then "makes it back into film," and puts them through the analog printing process that uses light. This laborious exercise is closely tied to the artist's conviction to remain diligent about contemplating on the meaning of photography as a medium and taking a moment from time to time to keep records of the sky in his journal.
Understanding the characteristics of photography as a medium, kdk categorizes the works into his own system and creates a series of works based on the concepts established with a specific purpose, such as strategic elements or methods of shooting and production. In addition, the title of the work takes initials such as "p," "sf," "w," etc., and opens up the possibility for the audience to interpret the works in various ways. g, the title of this exhibition and series, not only points to the "gray sky" that is captured in the photographs but also signifies "middle gray," an abstract time and space that encompasses the many subtle nuances of the color gray. The gray sky of approximately 500 days and spaces that the artist chronicles converge to a unified time and space at the exhibition, g, and invite the audience into a familiar yet foreign place. Here, the trivial, everyday objects and premises emerge as scenes and moments with a special power.
kdk (b. 1973) studied photography at Seoul Institute of the Arts in Korea and Kunstakademie Düsseldorf in Germany where he studies under Christopher Williams and was a master class student of Thomas Ruff. kdk has held solo exhibitions Gallery Lux (2019, Seoul), Aando Fine Art (2016, Berlin, Germany), Perigee Gallery (2015, Seoul, Korea), Gallery2 (2012, Seoul, Korea), Michael Schultz Gallery (2011, Berlin, Germany), ONE AND J. Gallery (2006, Seoul, Korea), etc. He has participated in numerous group shows including those held at the MUCEM (2021, Marseille, France), ARKO Art Center (2020, Seoul, Korea), Auckland Art Gallery Toi o Tāmaki (2020, Auckland, New Zealand), Buk-Seoul Museum of Art (2019, Seoul, Korea), National Gallery of Victoria (2019, Melbourne, UK), National Museum of Modern and Contemporary Art, Korea (2017, Seoul, Korea), Triennale di Milano (2016, Milano, Italy), LEEUM Museum of Art (2015, Seoul, Korea), Daegu Photo Biennale (2012, Deagu, Korea), Seoul Museum of Art (2011, Seoul, Korea), Nam June Paik Art Center (2010, Yongin, Korea), Gyeonggi Museum of Modern Art (2010, Ansan, Korea), DOOSAN Gallery (2009, Seoul, Korea), The Stadtmuseum Düsseldorf (2006, Düsseldorf, Germany) and many more. His work is included in the collections of such institutes as the IKB Deutsche Industriebank, LEEUM Museum of Art, UBS, Seoul Museum of Art, National Museum of Modern and Contemporary Art, Korea and etc.