Dongju Kang, Inbai Kim, Woo Jin Park, Woo Jung HohRain Reading Apr.14.2021 ~ May.12.2021DOOSAN Gallery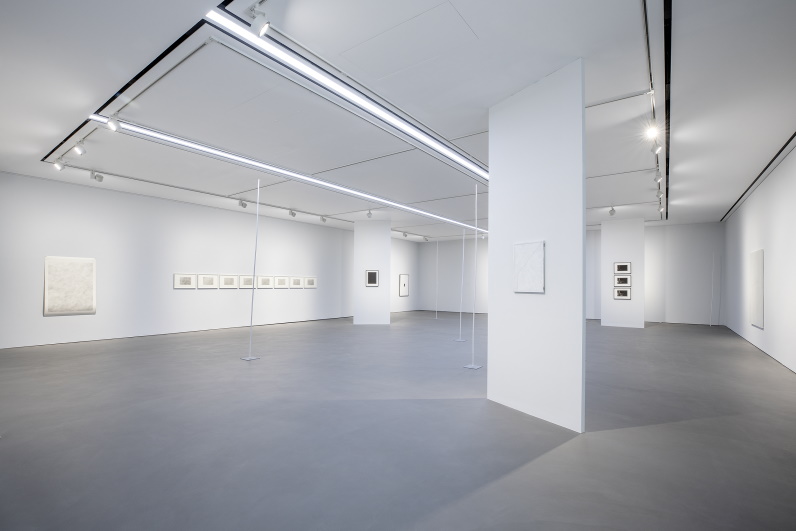 Installation view
Tuesday-Saturday 11:00~19:00 / Closed on Sunday and Monday
DOOSAN Gallery Seoul: 15, Jongno 33-gil, Jongno-gu, Seoul, Korea
Tel. 02-708-5050
DOOSAN Gallery Seoul presents Rain Reading, an exhibition that examines our sense of intuition about approaching events by comparing it with the anticipation of rainfall, from Wednesday, April 14 through Wednesday, May 12, 2021. Through over 20 drawings, sculptures, prints, and paintings by Dongju Kang, Inbai Kim, Woo Jin Park, and Woo Jung Hoh, audiences can variously appreciate the faint but ever-present perception or awareness that we experience as we encounter ever-changing situations and environments.
Throughout time, the physical phenomenon of rain has been the target of conquest, and we still lack accuracy in forecasting it today. Our sensitivity to precipitation spikes when the sky is cloudy, our breathing becomes labored, old wounds act up, or our hair texture reacts to the atmosphere. According to how we interpret our hunches, we prepare to receive rain in the near future subjectively. Rain Reading presents artworks that suggest we look inward to our most basic human instincts, the senses, to lean into the signals that our body sends to us in these unexpected, unknowable situations with unclear outcomes.
Dongju Kang captures the distorted and irregular circles left by a rain shower and presents them as a kind of still life by redrawing them on a fresh sheet of paper. Inbai Kim's sculpture introduces multiple curved, vertical, and nearly two-dimensional lines into a three-dimensional exhibition space, as if they were streaks of rain suspended in time. Woo Jin Park's copperplate prints express light, gradually brightening to paradoxically emphasize darkness, while Woo Jung Hoh's works such as 73.5% and 81%, which refer to the humidity of the day each artwork was made, reveal subtle differences across time in terms of temperature, humidity, weather, and lighting.
Nowadays, nearly everything occurs within the Internet's immaterial world, exposed to endless updates in high resolution. Perhaps what we really need isn't today's competition for accuracy, but the delicate human intuition within us that provides a sense of daily existence, such as the part of us that can predict rain. The works in Rain Reading use art's fundamental tools such as paper and pencil or the basic colors of black and white to reveal new properties. Previously undiscovered paper textures and the changing formation of lines; the myriad variations between black, white, and grey; and the shallow and fine texture of walls that become exposed on translucent paper surfaces are all examples of these properties. We hope that this exhibition will be an opportunity for audiences to be still and look within themselves while viewing the artwork.