Sue Yon HwangHumming Head Mar.06.2019 ~ Apr.17.2019DOOSAN Gallery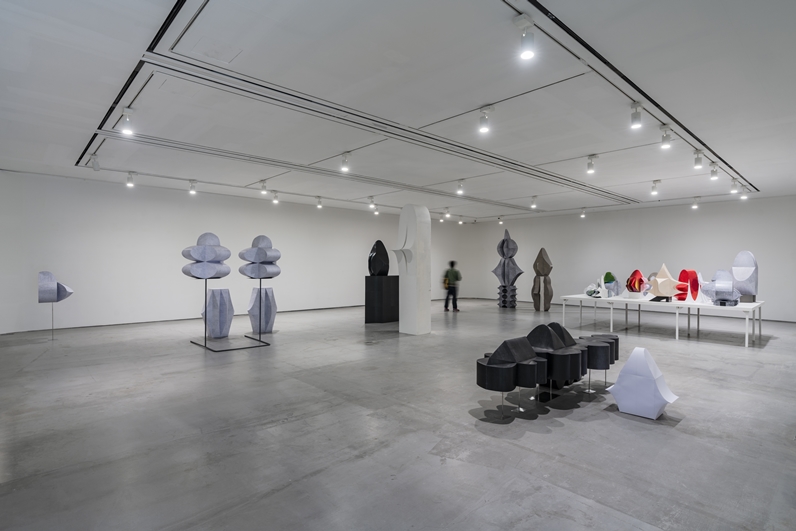 Sue Yon Hwang
Installation view
Opening Reception: Mar 6th, Wednesday 6~8 pm
Tuesday-Friday 10:30~20:00 / Weekend and National holiday 10:30~19:00 / Closed on Monday
DOOSAN Gallery Seoul: 15, Jongno 33-gil, Jongno-gu, Seoul, Korea
Tel. 02-708-5050
DOOSAN Gallery Seoul presents Sue Yon Hwang's solo exhibition titled Humming Head from March 6 to April 17, 2019. Sue Yon Hwang was selected as a DOOSAN Residency artist through an open call in 2018, and will hold a solo exhibition at DOOSAN Gallery New York followed by her solo exhibition in Seoul.

Sue Yon Hwang presents works that show her interest in the unique characteristics of various materials, while transforming and emphasizing their materiality. For example sand, which is light and scattering in nature, is mixed with an adhesive to become rigid so that it could be made into forms; flimsy and fluttering aluminum foil is crumpled into lumps and hammered to transform it into a heavy and solid material. Hwang also created a work where she applies different layers of color pastels on the wall so that they look like an identical tone when seen through the camera in black and white mode.

Recently, the material Sue Yon Hwang primarily focuses on is paper, which is universal and familiar to us. Through her use of paper -- a thin, bendable, and foldable material with the potential for crumpling -- Hwang constructed "paper face" and "paper body." At first, "paper face" was made in response to a request to "make a sculpture of the size of the face." In the process of cutting, folding, and attaching papers within the fixed volume, forms emerge, gaining their own unique facial trait -- as if each form were an individual living organism. The paper pieces are made with sewing rulers, which is originally used to make clothes that fit the human body. In the process of production, the paper sculptures come to resemble one another.

In this exhibition, pieces of paper mutate little by little, as if they are evolving. Some pieces of paper grow in height, while others change their bodies into a more solid ones, as if they attempt to overcome the fragile nature of paper, while maintaining their form. Big ones, small ones, wide ones, thin ones -- various forms of "paper bodies" and "paper faces" resemble one another: their left sides resemble their right sides, like eyes and noses resemble one another. Similar to a family, or a new species, pieces of paper that are quietly interconnected invite the viewers to consider the similarities and differences in each one of them, amongst the group of paper forms. The pieces - that are created neither by stacking up nor by sculpting, and that are surrounding the empty interior that could easily crumble - raise the question on the origin of their shapes.