Hayoun Kwon

LEVITATION
Oct.10.2018 ~ Nov.07.2018

DOOSAN Gallery Seoul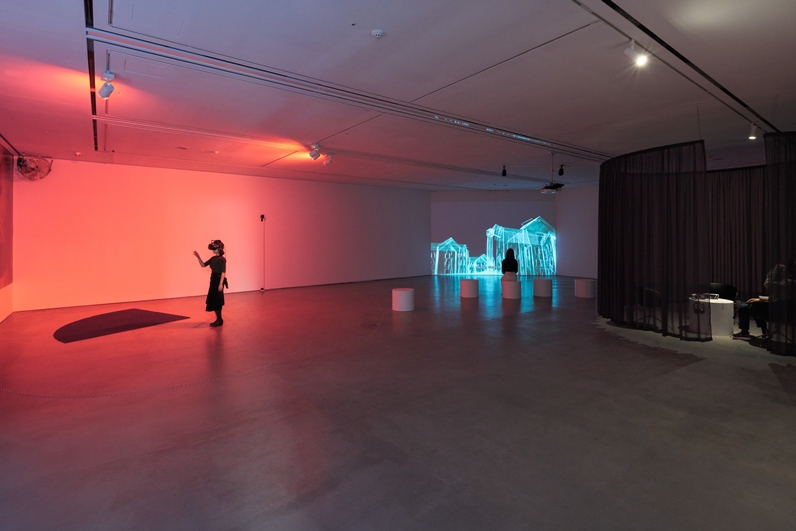 Hayoun Kwon
installation view

Opening Reception: Oct 10th, Wednesday 6~8 pm
Tuesday-Friday 10:30~20:00 / Weekend and National holiday 10:30~19:00 / Closed on Monday
DOOSAN Gallery Seoul: 15, Jongno 33-gil, Jongno-gu, Seoul, Korea
Tel. 02-708-5050
DOOSAN Gallery Seoul proudly presents Levitation, a solo exhibition by Hayoun Kwon, from Oct 10 to Nov 7, 2018. The recipient of 2017 DOOSAN Artist Award, Kwon who lives and works in France has been awarded for her various video works shown in Palais de Tokyo, the media art festival Ars Electronic in Austria, as well as other various film and video festivals.
Kwon's first solo exhibition in Korea, Levitation presents video works dealing with the boundary in between reality and fantasy, real and fictional. Signifying objects floating in space, the exhibition title Levitation illustrates Kwon's oeuvre as an exploration of the boundary between reality and virtual world. Although most of Kwon's videos are documentary in form, they are actually fictional stories based on memories and narratives of others and various research findings. Kwon recomposes into computer graphics narratives based on events that have never been experienced, and creates a communal space between the one telling the story and the one experiencing it. She then directs the story to gradually invite the audience into this space, allowing them to experience new sensations in the unknown space.
This exhibition presents two VR works, Bird Lady and 489 Years, and video works produced through various methods including 3D animation and real footage. Kwon started using the VR medium in her 2015 work, 489 Years. Through narratives told by one person who served in the military in the DMZ, the work recreates the inaccessible virtual space of DMZ in reality through computer graphics, and offers a vivid experience of this imaginary space through VR. Bird Lady is a virtual reality recreation of a space in the memory of a figure named 'Daniel,' inviting the audience to walk in this space themselves and to visit his memories. Kwon's oeuvre offers experiences of new and unfamiliar time, space and senses through other video works that shed light on North Korean villages and Panmunjeom, etc, or by offering the audience the experiences of new and unfamiliar space-times by opening up sites that exist in reality but are inaccessible.
Hayoun Kwon (b. 1981) received her B.F.A and M.F.A from French National Plastic Arts and M.F.A from National des Arts Contemprains Le Fresnoy. She has held solo exhibitions at Galerie Sator (2018, Paris, France), Palais de Tokyo (2017, Paris, France), Le Centre d'art et de photographie de Lectoure (2016, Lectoure, France), Galerie Dohyang LEE (2015, Paris, France), Chateauroux Municipal School of Fine Arts (2015, Chateauroux, France) and Galerie Dohyang LEE (2013, Paris, France). She has also participated in group exhibitions at 2018 Busan Biennale (2018, Busan, Korea), Alternative Space LOOP (2018, Seoul, Korea), Arario Gallery Seoul RYSE Hotel (2018, Seoul, Korea), MMCA (2017, Seoul, Korea), Nam June Paik Art Center (2017, Yongin, Korea), MoMA (2017, New York, N.Y, U.S.A), Centre d'art Contamporain de Maymac (2016, Maymac, France), Seoul Museum of Art (2015, Seoul, Korea), Art Sonje Center (2015, Seoul, Korea), Gyeonggi Creation Center (2015, Ansan, Korea), 1st Vendome Triennale (2015, Vendome, France), 2014 Busan Biennale (2014, Busan, Korea), Jeu de Paume (2014, Paris, France).
VR installation Bird Lady requires reservation → Reservation