Park Gwangsoo

Windswept
Mar.08.2018 ~ Apr.07.2018

DOOSAN Gallery New York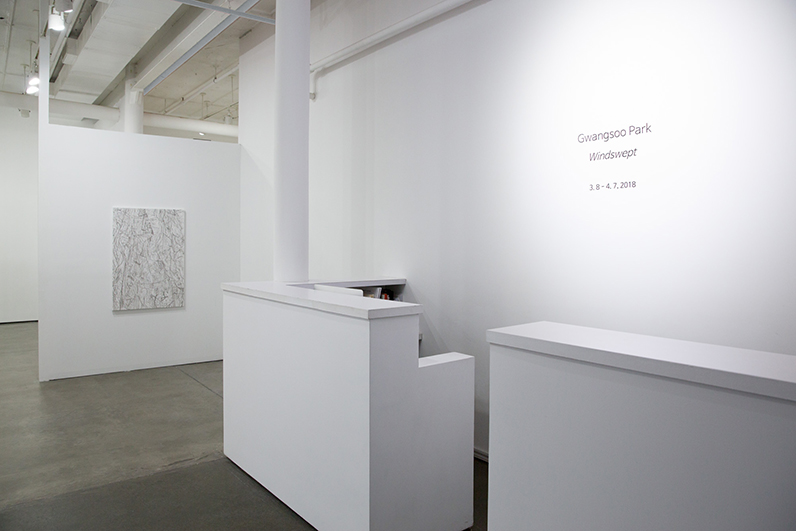 Gwangsoo Park
Installation View
Opening reception: Thursday, March 8th 6-8 pm
DOOSAN Gallery New York, 533 W 25th St., New York, NY 10001
DOOSAN Gallery New York is pleased to present Windswept from March 8th to April 7th by Gwangsoo Park, a recipient of the 7th DOOSAN Artist Award. This exhibition will showcase works from series "Crack" and "Dark Forest" along with new paintings produced at DOOSAN Residency New York.
Gwangsoo Park primarily uses ink and acrylic to paint the intertwining lines and dots in his work. The animated strokes sometimes compose expanded landscapes of everyday anecdotes while other times describing fragments from the artist's imagination. In order to overcome the limited line weight of an industrial pen, Park creates his own assortment of mark-making devices that are made by adhering cut sponges to wooden dowels. Allowing a more unrestrained application to the surface, these tools immediately transfer the subtle movements of the artist's body and his reinterpretation of the subject.
The title Windswept imagines a scene of fluttering leaves and flower petals, a sensation that Park often refers to when describing his work. The drifting lines and marks in the paintings both obscure and, simultaneously, reveal the subject matter and its surrounding. This duality is accentuated by the ambiguous figures and abstract background drawn from the intersection of everyday life and imagination. The exhibition also includes Park's latest paintings which focus on the process of bringing subject matters into being rather than effacing them, a recurring theme in former series.
Gwangsoo Park (b. 1984) received his M.F.A. from Seoul National University of Science and Technology. He held solo exhibitions at DOOSAN Gallery Seoul (2017, Seoul, Korea), Kumho Museum of Art (2016, Seoul, Korea), Shinhan Gallery Kwanghwamun (2015, Seoul, Korea), KunstDoc Gallery (2014, Seoul, Korea), Insa Art Space (2012, Seoul, Korea), and Gallery b'ONE (2011, Seoul, Korea). He also participated in group exhibitions including Kumho Museum of Art (2017, Seoul, Korea), Gallery Planet (2017, Seoul, Korea), Arario Gallery Seoul (2016, Seoul, Korea), Hapjungjigu (2016, Seoul, Korea), HITE Collection (2016, Seoul, Korea), DOOSAN Gallery Seoul (2016, Seoul, Korea), Seoul Museum of Art (2015, Seoul, Korea), Common Center (2014, Seoul, Korea), Sungkok Art Museum (2013, Seoul, Korea), and Wumin Art Center (2012, Cheongju, Korea).